Admission Process
You have what it takes to Level-Up your IT career or start a career in IT?
See how our admissions process works and apply today.
NexGenT Admission Process

Step 1
Complete NexGenT Program Application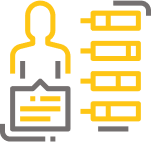 Step 2
Take a 30 min mandatory skill assessment test

Step 3
Phone interview with our Admission Representative

Step 4
Video Interview with our Admission Officer

Step 5
Sign Enrollment Agreement and pick a cohort

Step 6
Complete our pre-requisite course before you start your cohort
STEP 1
NexGenT Program Application
Ready to become a specialist in the I.T. world? Go to NexGenT.com! This is where you have the ability to apply to the program that you desire most. Once you have chosen the program that interests you, this is where you will start your process of enrolling with us!
Please keep in mind that you must be 18+ years of age and have proof of HSD, GED, or a certified college transcript.
STEP 2
Mandatory Skill Assessment Test
STEP 3
Admission Rep 
Phone Interview
STEP 4
Admission Officer Video Interview 
After you have completed your first call with the Admissions Representative, you will be directed to have a required video one on one with the Admissions Supervisor.

Treat this video interview like a job interview, it will last up to 30 minutes
STEP 5
Sign 
Enrollment Agreement
Once you passed the two interviews, you are officially admitted into the program! You will select a cohort start date, make your first payment OR sign an Income Sharing Agreement.
Our team will set up an account for you on our Learning Management System and add our pre-requisite course to your account.
STEP 6
Complete our pre-requisite course before you start your cohort
You've finally made it to the last step, woohoo!
While we do not require you having any IT knowledge before you start our zero to engineer programs, we do want you to have some basics before you start.
Once you have completed and have passed the pre-requisite course, you are all set to go for your cohort! 
Good luck and we will see you there. #LevelUp!
Self Paced
$6,497
12 month and 36 month.
Financing options available.
Live Cohort
$15,000
36 mo, 48 mo, and 60 month.
Financing options available.